The late Isabella Blow, influential fashion stylist and champion of the avant garde, launched the careers of many of fashion's household names, including the model Sophie Dahl, designer Alexander McQueen and milliner Philip Treacy. However, she remains best known for her extravagant hats. Here is a celebration of her finest moments...
China girl


Philip Treacy's "Chinese Garden" headdress, created for Alexander McQueen's 2005 spring/summer collection
Blow with her husband Detmar, author of her biography Blow by Blow: The Story of Isabella Blow
No one wears it better them the great Isabella Blow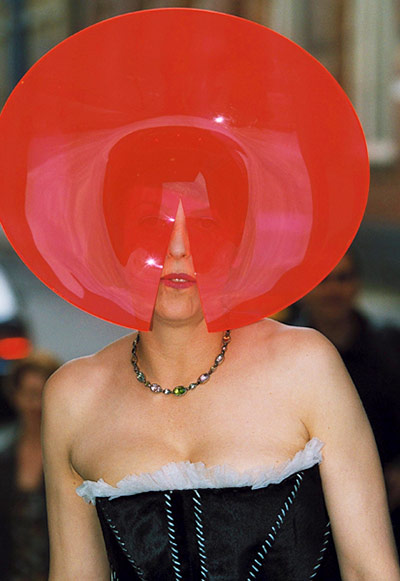 Blow sporting another Philip Treacy number at the opening of the exhibition
When Philip Met Isabella at the Design Museum in London
One Isabella favourite hats
Blow was most famously associated with Irish milliner Philip Treacy, setting him up at the start of his career and frequently sporting one of his creations.
Isabella Blow and Alexander Mcqueen
Isabella Blow, a British fashion editor, aristocrat, and aesthete whose gift for identifying and promoting new talent. One of British finest. True Surrealist and artist
.
She was an inspiration for many Philip Treacy hats. One was a replica of an 18th-century clipper ship in full rigging. Another creation consisted of a mass of pink and green lacquered ostrich feathers stuck into a mortarboard. It was so wide that Blow was unable to get through the door of the charity event for which she had ordered it.
The wedding of Isabella and Detmar Blow at Gloucester Cathedral, 1989.
One of fashion brightest and finest
"
She had an amazing figure and her clothes were very severe and elegant."
"was just making [Beatrice] look young and sexy, using the colours and getting the advertisers in. Otherwise [Tatler's editor] Geordie Greig would have killed me."
Isabella Blow's London flat has just been featured in The World of Interiors, mar.- written by Natasha Garnett and brilliantly photographed by Fritz von der Schulenburg. This interior is what seems the most au courant about Blow.

For me, the private interior can reveal much about its inhabitant. Isabella Blow's Belgravia flat does not disappoint. Her grandmother had lived in Eaton Square and Philip Treacy said "when Isabella was low she would walk down the street and go and sit on the step of her grandmother's house- and that gave her comfort." Anyone can understand this longing to reach back to a memory of a loved one-especially a grandmother- a time when as a child we were blissfully happy
"I smoke so many cigarettes, there's no way I could have a glossy lipstick."
"[Isabella Blow is heading for the MAC hall of fame. The Tatler Fashion Director has helped create a new lipstick called, of course, Blow and described as a] bluey-pink ... If you don't wear lipstick, I can't talk to you. You need to have lips - they are important for getting men."
"Nobody knew how to quantify her talent," said her friend Daphne Guinness
In both appearance and expectations she belonged very much, one felt, to a different time. "She was the most interesting person I ever met," Mr. Treacy told The Guardian.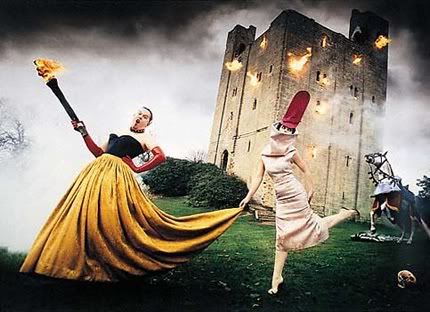 ISABELLA BLOW, the English eccentric and sorcerer of talent who died on 7th Many 2007 , was a completely implausible figure. You could not explain her and you could not reason with her. She was incredibly bright on the subject of fashion and rarefied tastes, a fact she wore on her sleeve and on her head. She loved a bustle, a corseted waist and a spectacular hat. And not for her the mushy-pea variety, the Ascot bonnet.